OneOffixx supports the creation of legally effective documents that are adjusted to the prompt and flexible needs of our modern era. The OneOffixx template software helps your company save time, resources and money.
Improved corporate legal certainty
If desired, authorized staff members can easily adjust and update OneOffixx templates on their own. The renowned standard software automatically makes sure that all employees make use of the latest, legally effective documents and texts.
Thanks to OneOffixx, the the circulation of incorrect formulations and obsolete document material is drastically reduced.
Unified and personalized documents without any extra effort
Word, Excel, PowerPoint and Outlook: The latest templates, documents and snippets are available at the press of a button. A unified design is automatically applied thanks to the OneOffixx template software. All documents adhere to the latest CI/CD standards, while being personalized and individual at the same time.
Due to the central data management, the correct templates are easily retrieved. A comprehensive authorization rights system guarantees an individual access to specific templates for each employee.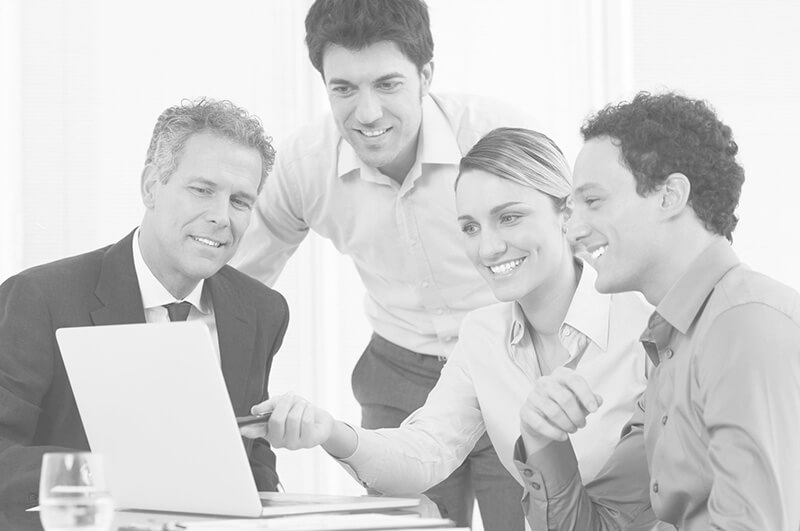 Employees are more independent and need less support
Did you know that employees dedicate some 22 minutes daily on searching for the correct documents?  Each work week, two hours are spent on just looking for incorrectly stored files or documents with wrong titles.
A perfectly structured document storage system, the intuitive usability, as well as the facilitation of complex Office applications create space for employees to focus on essential workflows. Tasks are completed much faster, better and smoother than before, providing for an increased efficiency and productivity. At the same time, the OneOffixx template software saves valuable work time.
Do the maintenance of existing Office templates and IT support take too much time? The OneOffixx template software allocates IT capacities more efficiently. Staff members are more independent and need less support, as the creation of CI/CD conform documents is significantly facilitated.
Reduced operating costs and more efficient employees
Thanks to the OneOffixx template software, staff members' workflows will be faster, better, more efficient – and redundant. This way, both work time and operating costs are reduced.
The central data management ensures that templates for complex organizational units, different brands and international businesses are easy to maintain. The intuitive usability of the OneOffixx template software enables quick and easy operations. No designated staff trainigs are needed for Microsoft updates, as an up-to-date version of OneOffixx automatically takes care of upgrades.
OneOffixx – you will simply love it. Your company's standardized corporate design is centrally managed for all document templates. The correct and unified design of letters, email signatures and Excel diagrams empowers your products and brands without any extra effort.
Save capacities and money, while increasing your company's legal certainty. Would you like to know more about the benefits of the OneOffixx template software? Click here!